Know about Geeta Singh
A professional with a rich experience in PR and marketing, Geeta Singh has proven her acumen at various reputed media houses by helping write success stories of some of the most established brands at the time. Testimony to her dedication is the birth story of TYC Communication itself. Carrying her invaluable experience forward with an indomitable spirit, Geeta began her entrepreneurial journey in 2012.
She began humbly with a personal investment of INR 50,000 and immersed herself with creating her own legacy. It all began in an 8×10 feet office with one colleague and one client. The Yellow Coin Communication was thus born as a proprietary firm and upgraded its status to a fully functioning private limited company offering a spectrum of services within just 2 years of founding.
Consistently spearheading the organisation with out-of-the-box ideas and delivering promised results within committed deadlines, Geeta soon led TYC Communication to new highs. As the lists of clients expanded over the years, so did the team of maestros under her leadership. Having navigated a labyrinth of challenges, TYC Communication currently serves 200+ clients in 180+ cities in India.
Geeta's hunger for success amalgamated with her firm belief in always doing the right thing drives her to selflessly do more for society. Under her able leadership, TYC Communication has also steadfastly contributed to several noble initiatives. In 2017, our presence at the Women Writers' Festival was instrumental in making the voice of female authors heard in the right places. We also committed our support to the revival of the Tantu (Odissi Dance Saga) and directed our efforts towards promoting the Agra Music Festival to preserve the legacy of Indian music maestros.
Geeta is the embodiment of compassion and empathy. She passionately involves herself in social causes and strives to make a difference using the right channels. Be it a campaign related to feminine hygiene, or a Roundtable Panel on Child Sex Abuse, Geeta Singh is always at the forefront being the harbinger of positive change. Through TYC Communication, she has helped unnumerable NGOs and CSOs in making themselves heard by leveraging the organisation's expertise in PR and communication.
Hailing from Uttaranchal, where social and cultural pressures dictated how she grew up, Geeta has risen above it all and displayed immense grit right from the start. Societal stigmas were not enough to dominate her insurmountable spirit as she graduated in Political Honours from the University of Delhi along with a diploma in Mass Communication.
Geeta is now leading TYC Communication through unchartered international waters. Her 'stop-at-nothing' attitude has been vital in meandering through challenges that came her way and in less than a decade she is already on her way foraying into the overseas market. The agency now boasts an international office in Estonia after having successfully worked with some of the most reputed brands like Patanjali Group, Mitsubishi, Shahnaz Husain, Oncquest Laboratories, Pearson Vue, IIIT-Delhi, Pioneer India, Fena, Safe Express and Sagar Ratna to name a few.
For her inspirational success story, Geeta was recently conferred with The Young Leadership Award at the 2nd NIER's National Excellence Awards. Her journey with TYC Communication has been one of a kind, for which Digital Magazine recognised her as one of the '10 Most Inspiring Indian Women Leaders in Business'. She continues to add laurels to her name as she captains the TYC Communication ship with a vision on her mind and fire in her eyes.
Geeta has not only won awards but also people's hearts. The entire team at TYC Communication enjoys working with her and sometimes even goes out of its way for her when needed – something that is hard to inspire in people and it speaks volumes about her as a professional and a human being.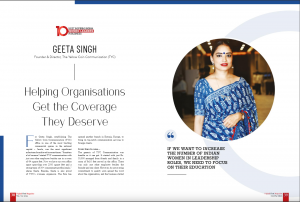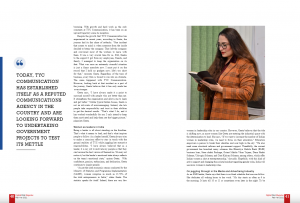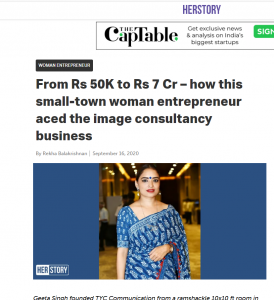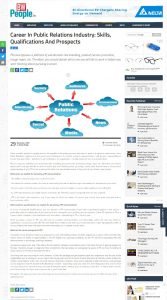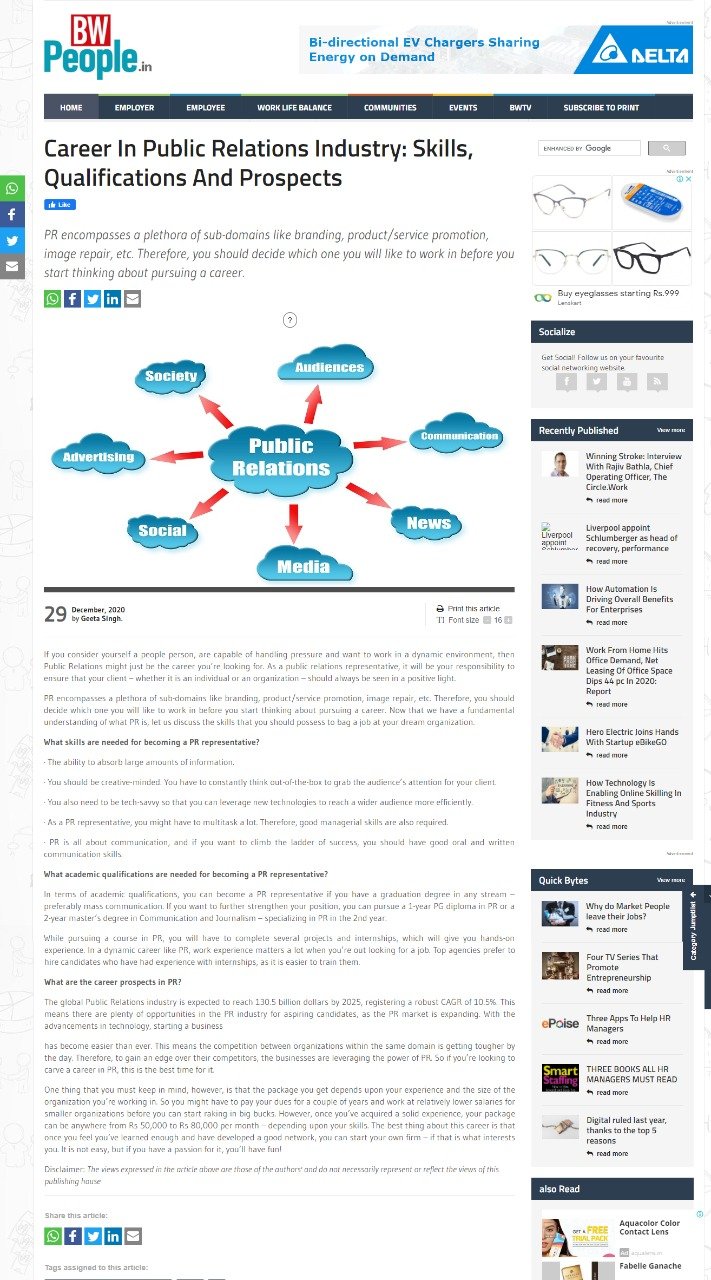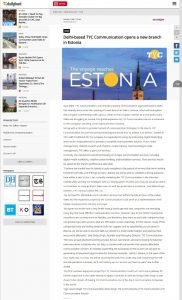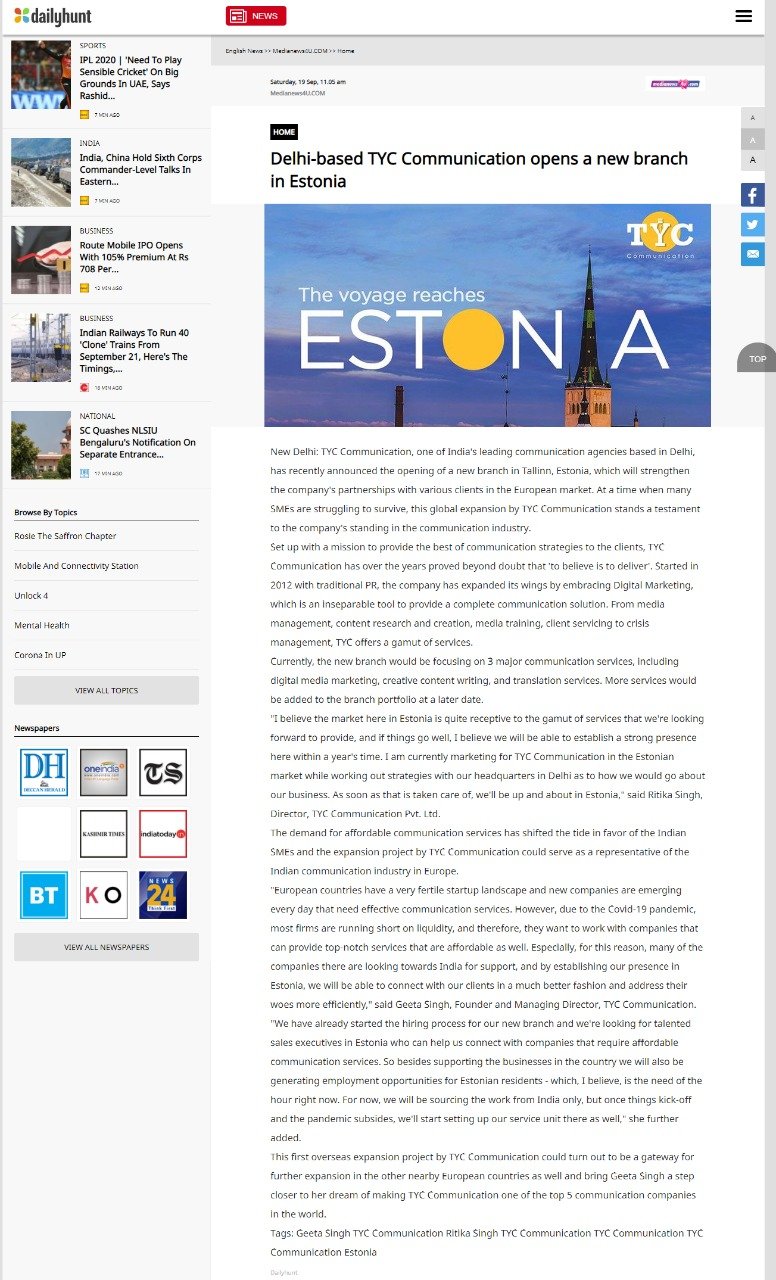 TESTIMONIALS
It's out there in black and white – our satisfied and prosperous client base and their flourishing businesses stand a testament to our worth as an agency.

IIIT Delhi
"TYC Communication has really impressed us with their unique and reliable PR solutions. The enthusiasm with which they take responsibility for the task and their commitment to the deadlines is what separates them from others in the market. The best thing about them is that they produce the results they promise."

AKS
"Making the decision to hire TYC Communication has really fared well for us. Our business has grown considerably ever since TYC Communication got involved in the PR process, and our stories have been covered by some of the largest publications – which, needless to say, has been a delightful experience. Couldn't have asked for better PR partners."
Oncquest Laboratories
"Having TYC Communication as our PR partner has been a wonderful experience. They're responsible, flexible and they have proven themselves to be excellent at keeping up with our ever-evolving needs. Their proactive nature in seizing opportunities has brought a great deal of success our way, and we're thankful to them for that."

Pioneer India
"The team at TYC Communication is incredibly smart, creative and strategically astute. The way that they've created media buzz on our product launches has really impressed us. Best of all, they know how to get the results."

Mitsubishi Electric India
"The team at TYC Communication is really amazing at discovering fruitful PR opportunities and that has taken a lot of burden off our shoulders. They have been brilliant at understanding our needs and conveying the same to the media community which has definitely led to some incredible results."

XEBIA Technologies
"The technological sphere is evolving at an exponential pace and as an organization that is centered on technology, we needed a PR partner that can keep up with the dynamic nature of our sector and we couldn't have wished for a better PR agency that TYCC."
LET'S TALK
Thank You For Checking Out The Yellow Coin Communication. If There's Anything We Can Help You With, Do Reach Out To Us. We Love Public Relations Anyway!
Address
Uppal Plaza, M6, Suit - 3B, 3rd Floor, District Centre,
Jasola, New Delhi – 110025
Phone
Get a Free TYC Communication Quote Now