In the era of globalization, from start-up businesses to large multinational corporations, organizations, irrespective of size and nature, take active steps to maintain good communications and relations with their customers, prospects, and other stakeholders through Public Relations (PR).
However, you might be curious about what it's like to work in this field or what "Public Relations" actually entails. Even if you're excited about the possibility of landing a job or hiring a PR, you should be aware of the nuances of this line of work. "The Yellow Coin Communication" guide will describe public relations and discuss its significance for businesses in the modern world.
List of Content
Let's understand the needs, functions, and importance of Public Relations.
Whether you want to call it an art or a science, public relations is a craft that demands undeniable skill, knowledge, and tenacity from those who want to work in the sector. Further, PR refers to the range of actions a business takes to advance and safeguard the public perception of the organization, its policies, and its products.
In short, public relations professionals look after a company's reputation and public image. They assist the organization in communicating with the stakeholders and foster a good rapport between the two.
Further PR is a distinct discipline, but it does have elements in common with several other disciplines, including marketing, communications, and advertising. Even though the functions of these professions could be similar, several features of public relations set it apart and give it a special place in the world of business.
What Do PR Professionals Do?
Public relations professionals work to change how the general public views their clients' brands and what reputation or image their clients want to establish in the market. Unlike advertisers, PR specialists, with the help of media professionals, authenticate the communications that brands have with various publics through news articles, feature stories, industry stories, interviews, expert talks and debates, and opinion pieces in traditional as well as new media.
They also make use of a variety of other resources to accomplish this mission for their clients. Arranging for speaking opportunities in TV channels, radio, and podcast platforms, organizing events such as press conferences, providing relationship-building meetings with journalists of the relevant genre, and nominating the company and its spokesperson for various award opportunities and recognitions, are some of the key responsibility areas of PR professionals in the current age.
Essentially, the PR experts in our team focus on carefully designing communications using cutting-edge tactics and technologies to strengthen the bond between a company and its audience. Depending on the client, their goals, and their requirements, our PR specialists prefer applying different strategies and approaches. Further, to establish a positive reputation for our clientele in the eyes of the general public, we make sure to put all of our efforts into monitoring, dissemination, and projection of all sorts of communications between the client and media houses.
Primary Objectives of Public Relations
It improves corporate image and gives the company's products a positive vibe and credibility.
It aids in introducing new products and preserves consumer interest and confidence in the already-available goods.
It is an addition to advertising to promote both existing and upcoming products/services. As a result, it paves a smooth path for businesses and their partners to promote and sell their goods.
It reduces the expense of promotion because it only needs to keep staff to create and share content with the media or oversee events.
Public Relations vs Marketing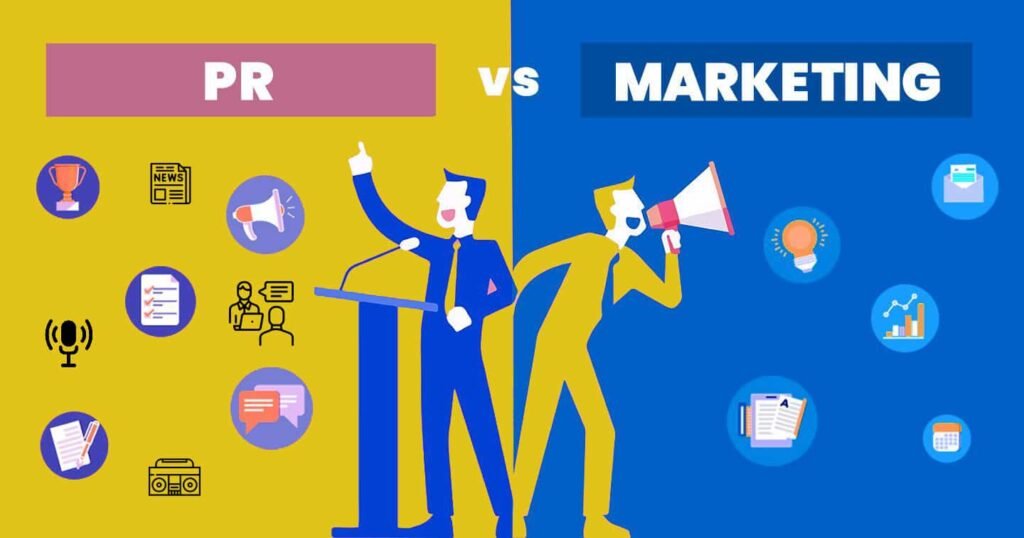 Public Relations is an organic way of marketing, which entails fostering a favorable perception of goods, services, and businesses among consumers. In comparison to public relations, marketing aims to meet clients' wants by offering goods and services that may please them and enhance sales revenue. On the flip side, the goal of public relations is to strengthen the bond between the general public and an organization. PR experts aid marketers in their endeavors because fostering good client interactions can increase sales and satiate a target demographic afterward.
Public Relations vs Advertising
Advertising is a part of marketing that frequently overlaps with public relations. Public relations and advertising both contribute to the achievement of marketing objectives, albeit in different ways. Advertising directly engages consumers to market a product and establish its superiority over that of competitors. Public relations entails two-way communication with clients about why the company deserves their patronage. To support marketers in their efforts to sell, PR may help customers open up the dialogue, allowing these two industries to collaborate to better serve customers and boost sales.
Different Functions of Public Relations
The field of public relations is diverse and multifaceted in and of itself. Public relations experts employ various strategies to achieve their goals and uphold the organization's favorable reputation in the public eye. There is an amalgamation between these strategies, and although each has a distinct function, they can all be used as a component of an effective public relations plan. A skilled, qualified PR expert will use all or a mix of them when necessary.
Some of the most prominent functions of PR include:
Community Relations
Enhancing an organization's reputation within the local or broader community is a component of community relations. Businesses frequently interact directly with the community by hosting events, supporting causes, or participating in local initiatives. This fosters the organization's presence in the community and builds relationships with locals.
As a reputed PR agency, TYC is aware of the value of community relations as an essential component of PR for companies, particularly startups. Our team is experienced and knowledgeable about the most effective techniques to communicate with and engage the target community of our diverse clients.
Media Relations
Media relations focus on dealing with the media and press. Any form of interaction with the media falls under the umbrella of media relations, but frequent examples include setting up press conferences, coordinating interviews, and creating press releases. Depending on the company, a media relations specialist can handle these duties; in other instances, a PR expert might be in charge of all public relations.
When pitching stories for media coverage, our talented PR executives at TYC are organized, and adaptable, and provide a compelling approach and guaranteed outcomes.
Corporate Social Responsibility
A PR strategy that aims to enhance your organization's reputation as an ethical company is corporate social involvement. This can take many different forms, such as paying workers and employees fairly, only employing labor or materials that have been sourced ethically, or promoting diversity in your company's advertisements.
Anyone can benefit from this type of public relations, but it might be especially useful if your target audience is young and aware of current social concerns. Corporate social responsibility can show that you care about resolving their issues and are aware of their problems.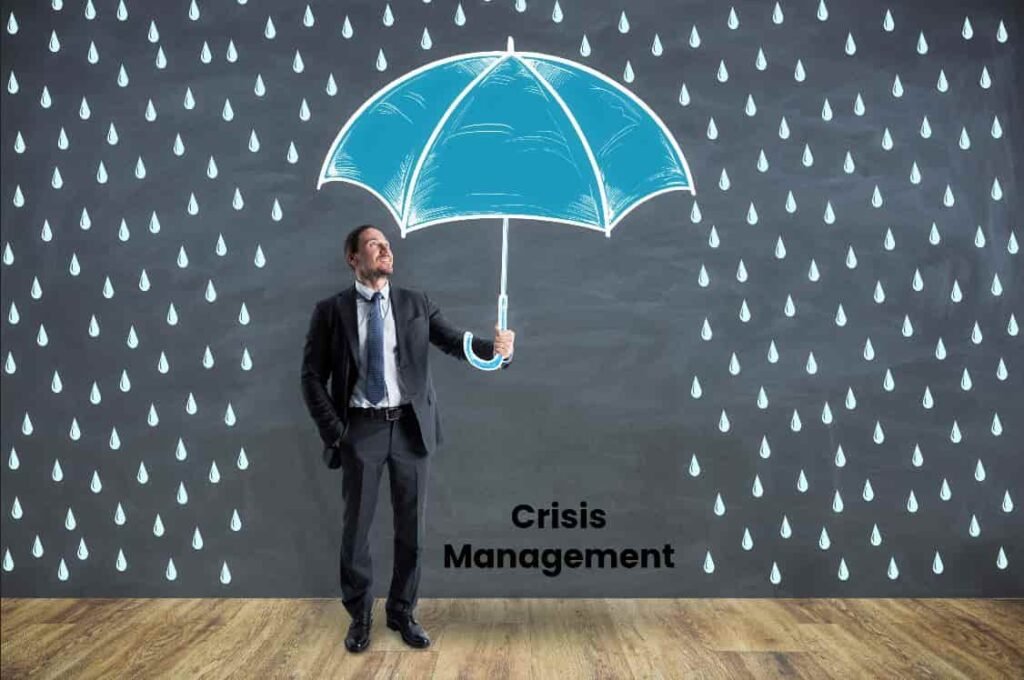 Crisis management is necessary when an untoward incident threatens to harm your company's reputation. Normally, you only need to do this after a significant problem, especially if it's been made public. Although some circumstances will pass with time, others might not, which could cause irreparable or permanent harm to your brand. PR can help resolve the problem and rectify the wrong messages, which can help the crisis be lessened.
Our crisis communication specialists are masters in guiding you through any such situation while preserving and restoring the reputation of our client and its brand.
Counselling
The public relations division also counsels management on matters affecting the company's reputation and suggests they get involved in various news-making opportunities. They also guide them about useful social initiatives to raise their profile and win the trust of society at large.
Content Development & Management
Moving on to public relations roles, content creation, curation, and management are essential components that support developing effective messages and narratives.
Emails, newsletters, press announcements, articles, profiles, yearly reports, blogs, and speeches fall under the content services. Content needs to be prepared and conveyed in a precise tone, especially on behalf of the CEO or higher management of the company.
As a public relations firm, we at TYC collaborate closely with our clients' marketing teams or other vital individuals to gain knowledge of the nuances of their stories. This enables us to craft information carefully so that the parties involved can be kept informed at the end of the day.
Social Media Management
Lastly, social media management is essential to preserving a positive online reputation for a business across various social media platforms.
This is a PR role where social media influencer marketing may also be considered. Maintaining social media profile pages, Tweeting, and keeping an eye on rivals' actions are among the duties that team TYC's social media experts make sure to complete with a developed plan that ultimately chimes with the most recent developments in the company's core operations.
Significant Advantages of Functions of Public Relations
The benefits of having consistent and continuous public relations, depending on the particular industry, are listed below:
Your public relations specialists can invite audiences through earned and sponsored media efforts. The type of information provided to them will have an impact on the client.
The entire procedure is more affordable because working with big social media influencers for sponsored content and hiring brand ambassadors are more expensive than doing paid PR advertising campaigns.
A well-timed and well-done press release can reach a wider audience than seasonal social media ads. The medium you have selected for your plan will, however, also impact the reach of any press release.
The advantage of public relations is its quickness. An important development or information can frequently be released and publicized quickly. Additionally, adaptable and responsive are public relations.
The credibility factor is significantly increased if the public learns about the advantages of a company's products through an impartial source that is not receiving anything from the company in the issue.
Public relations is essential to modern business. It's a necessary component of managing your brand, can boost revenue, and fosters connections with those who interact with your business. Additionally, PR can help you lessen the effects of a crisis or seize unanticipated commercial possibilities. Best of all, PR may enhance the impact of the story that surrounds your company. This is quite helpful, given how connected and hurried modern life is.
While companies may be capable of handling this marketing component independently, they need more expertise and knowledge to do so efficiently. Organizations should hire the services of a specialist for the most impact and consider hiring a professional PR agency for Startups. Because every firm has different requirements, it is essential to carefully analyze each option before choosing one.
The value of public relations must be considered in contemporary organizations. It's a demanding field, and to succeed, you need to be excellent at communicating, have the capacity for strategic thought, and know how to handle the extensive and intricate link between the general public and a corporation. Furthermore, poorly executed PR may cause more harm than good.
Conclusion
Ultimately, it is down to when and how you want to include public relations functions in your business. These functions should be implemented gradually for maximum company scalability, given their advantages and potential.
It is better to contact a professional PR firm like ours if you are a business owner without prior expertise in establishing and managing PR campaigns.
We collaborate with an established network of respected media outlets and well-known journalists with whom we have an amicable relationship. This synergy enables an open flow of ideas, information, and strategy that, in turn, better prepares us to draw attention to your brand among the audience. The media's ongoing requests for our clients' opinions are proof of our skill in handling media relations.
We at TYC Communication are among the well-known PR & Digital Marketing Companies in Delhi and truly believe that building trustworthy relationships across enterprises promotes open communication between them. As a fraternity of quick-witted and imaginative thinkers, we fervently commit to putting our best foot forward to promote the growth and success of our clientele in a cutthroat setting.
LET'S TALK
Thank You For Checking Out The Yellow Coin Communication. If There's Anything We Can Help You With, Do Reach Out To Us. We Love Public Relations Anyway!
Address
Uppal Plaza, M6, Suit - 3B, 3rd Floor, District Centre,
Jasola, New Delhi – 110025
Phone
Get a Free TYC Communication Quote Now